The Chamber's Nonprofit Committee provides meaningful opportunities for nonprofit staff, managers and board members to come together to collaborate, and embrace the importance of growth and sustainability. The Committee serves as a resource for ongoing professional development and as a forum for sharing best practices.
Are you interested in joining the Nonprofit Committee? If so, please contact:
Lucille Geraci-Miranda at:
lucille@gerandaprojects.com
(914) 788-5319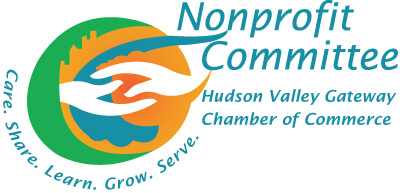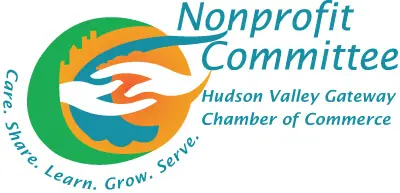 Tuesday May 16, 2023, 12-1:30pm
Scroll down to read about these events.
Let Us Help You Get the Word Out!
Is your organization having a Gala? Fundraiser? Volunteer Recruitment Day?
Chamber member nonprofits please contact us so we can publicize your event in our newsletter.
Let us feature your nonprofit in our monthly newsletter so hundreds of businesses and individuals will learn about the work you are doing to improve our communities. We feature one nonprofit each month. Please contact Lynn Amos, Nonprofit Committee Member.
Do you have expertise that you would like to share with your nonprofit colleagues? To write an educational article for the newsletter, please contact Lucille Geraci-Miranda, Nonprofit Committee Chairperson.
Nonprofit Newsletter Archives
Stronger Fundraising Communications
Featured Organization: Peekskill Pride
Strategies For Strong Grant Applications
Featured Organization: Peekskill St. Patrick's Committee
Is Your 2023 Event Ready?
Featured Organization: Black Diamonds Academic Success, Inc.
Boosting Board Engagement in 2023
Featured Organization: The Westchester Library System Adds Oomp to Your Local Library
Pension Benefits Can Help You Recruit Talent
Featured Organization: The Extended Family
Thinking Ahead: Thoughts for Building a Successful 2023 Fundraising Program
Featured Organization: TRA, formerly WestFair Rides
Serving on a Nonprofit Board…why D&O Insurance Is Important! by Mary Foster
Featured Organization: The Family Resource Center of Peekskill, Inc. by Justin Wingenroth
6 Things You Can Do to Help Your Search Engine Rankings: Part 2 by Lynn Amos
Featured Organization: Westchester Sickle Cell Outreach (WSCO) - Jacqueline Baker's Legacy by Lucille Geraci Miranda, MPA
How Accurate Are Event Trends?
Featured Organization: Tompkins Corners Cultural Center
Hyper Local News and Your Organization by Mary Foster
Featured Organization: The Society of Our Lady of Mt. Carmel: Celebrating 100 Years! by Lucille Geraci Miranda, MPA
Organizational Wellness Check – Your Way to a Healthier Nonprofit by Lucille Geraci Miranda, MPA
Featured Organization: Ronald McDonald House of the Greater Hudson Valley by Lynn Amos
6 Things You Can Do to Help Your Search Engine Rankings by Lynn Amos
Featured Nonprofit: Volunteer New York! by Justin Wingenroth
Gearing Up for Global Volunteer Month by Justin Wingenroth
Happy Birthday to Peekskill's Field Library! by Mary F. Foster
Giving Back Through Volunteerism – The Gift of Time by Lucille Geraci Miranda, MPA
Featured Organization: Greater Hudson Valley Council, Boy Scouts of America by Lynn Amos
Contact Relationships Management Software…Do you have one? Need one? Want one? by Mary F. Foster
Featured Organization: The Peekskill Museum by Mary F. Foster
Broaden Your Community Connections by Mary F. Foster
Featured Organization: HOPE for Youth Foundation by Justin Wingenroth
The Fund Development Plan in the New Normal by Lucille Geraci Miranda, MPA
Featured Organization: RideConnect of Westchester by Lynn Amos
Four Steps to Succession Planning in the Era of COVID by Ivy Fairchild
Featured Organization: The Peekskill Rotary Club by Tim Warn
Email Marketing Best Practices for Nonprofits by Lynn Amos
Featured Organization: Abbott House - Spotlight on Keon Programs of Abbott House by Lucille Geraci-Miranda, MPA
Five Things You Can Do to Ensure End-of-Year Campaign Success by Ivy Fairchild
Featured Organization: Support Connection by Justin Wingenroth
Are You Gearing Up for Your Fall Fundraiser? by Chereese Jervis-Hill
Featured Organization: New Era Creative Space (NECS) by Mary F. Foster
"We Served Thousands of People This Year." So What? by Ivy Fairchild
Featured Organization: Hudson Valley H2O by Mary F. Foster
8 Best Practices for Nonprofit Websites by Lynn Amos
Featured Organization: Hudson Valley Gateway Chamber Foundation Inc. by Lucille Geraci-Miranda, MPA
Getting Your Board on Board by Lucille Geraci-Miranda, MPA
Featured Organization: Ronald McDonald House of the Greater Hudson Valley by Lynn Amos
For the Love of Giving: Building a Culture of Philanthropy by Ivy Fairchild
Featured Organization: NAACP, Peekskill Branch by Justin Wingenroth and Tim Warn
Planning Virtual Event Communications by Lynn Amos
Featured Organization: CHHOP by Lucille Geraci-Miranda, MPA
Are you considering the Attendee Value when planning your Virtual Event? by Chereese Jervis-Hill
Featured Organization: The Salvation Army by Tim Warn and Justin Wingenroth
Building Organizational Infrastructure and Improving Overall Effectiveness in This World of Uncertainty: WHAT'S YOUR PLAN? by Lucille Geraci-Miranda, MPA
Featured Organization: The Captain Oliver C. Chase Jr. Post 274 by Ivy Fairchild, CFRE, MPH, MA